---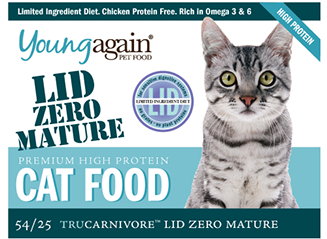 Young Again, LID Zero Mature Premium High Protein Cat Food
---
Young Again LID ZERO Mature Cat Food is our Pork based, Limited Ingredient formula that uses only one protein source and has been specifically designed for cats with allergies to chicken and other protein sources. Works well for cats with constipation, IBS/IBD and other bowel issues. NEW UNIQUE FLAVOR!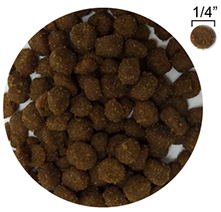 We've developed our LID ZERO Mature Health formula has been specifically designed for cats with allergies to chicken and other protein sources. This Limited Ingredient formula is Pork Based.  When a feline doesn't eat her natural diet – meat and fat, she can become overweight and at risk for diabetes. Feeding a proper carnivore diet like Young Again LID ZERO Mature Cat Food can help your pre-diabetic or diabetic cat avoid starch and plant proteins by giving her a carnivore-based alternative to traditionally prescribed cat foods.This formula may encourage some older cats to gain needed body mass.
Potassium Citrate
Reduced Phosphorous 0.50%
Rich in Omega 3 & 6
High Protein formula
Grain free and plant protein free
Reduced Iodine level
DHA Docosahexaenoic acid
Reduced levels of Calcium and Magnesium,
LESS than 1% Starch
Your cat is considered mature when she is no longer growing bone. For most cats that will be at about 2 years of age. However, for breeds like the Maine Coon, it may be as long as 5 years. Please consult your veterinarian or breeder if you are unsure if your cat has reached adulthood.
Young Again LID Zero Mature is formulated to meet the nutritional levels established by the AAFCO Cat Food Nutrient Profiles for maintenance.
| | |
| --- | --- |
| Crude Protein (min) | 54% |
| Crude Fat (min) | 25% |
| Crude Fiber (max) | 2.0% |
| Soluble Fiber | 2,76% |
| Carbs/Starch (digestible) | <1% |
| Ash (max) | 5% |
| Moisture | 2% (min) - 10% (max) |
Calorie Content
4446 kcals/kg
645 kcals/cup
All Young Again Cat foods have an average weight of 145g/cup
Hydrolyzed Pork, Chicken Fat, Hydrolyzed Yeast Flavoring,

 
Guar Gum,
DL Methionine,
 

L-Lysine, Fish Oil,

 
Psyllium Husk
(source of fiber), Potassium Citrate, Brewers Yeast, Potassium Carbonate, Calcium Carbonate,

 
Fructooligosaccharides (FOS)
, Potassium Chloride, Choline Chloride, Taurine, Vitamin E Supplement, L-Tryptophan, L-ascorbyl-2polyphosphate (source of stabilized vitamin C), Betaine Anhydrous, Magnesium Sulfate, Salt, L-Carnitine, Biotin (vitamin B7), Zinc Sulfate,

 
Yucca Schidigera Extract
,

 
Rosemary Extract
, Vitamin B12 Supplement, Niacinamide (vitamin B3), Thiamine Mononitrate (vitamin B1), Copper Proteinate, Folic Acid (vitamin B9), Vitamin A Acetate, Riboflavin (vitamin B2), Calcium Pantothenate (vitamin B5), Sodium Selenite,  Dried Aspergillus oryzae Fermentation Extract, Dehydrated Pediococcus Acidilactici Fermentation Product, Beta Carotene, Pyridoxine Hydrochloride (vitamin B6), Cobalt Sulfate, Vitamin D3 Supplement, Mixed Tocopherols and Citric Acid (Preservatives).
| | |
| --- | --- |
| Crude Protein | 59.5% |
| Crude Fat | 27.4% |
| Crude Fiber | 1.60% |
| Soluble Fiber | 5.24% |
| Carbs/Starch (digestible) | <1% |
| Ash | 5.26% |
| Moisture | 0% |
 KEY MINERALS
| | |
| --- | --- |
| Calcium |  0.62% |
| Phosphorous | 0.52% |
| Phosphorous mg/100 kcals | 132mg/100kcal |
| Potassium | 1.27% |
| Sodium | 0.38% |
| Magnesium | .0425% or 425mg/kg |
| Iodine | 0.61 ppm |
| Lysine | 5.10% |
| Taurine | 0.23% |
| Total n-3 Fatty Acids | 1.56% |
| Omega 6 Fatty Acids | 4.68% |
| EPA | 0.68% |
| DHA | 0.73% |
| EPA+DHA | 1.41% |
| Food pH | 5.3 |
| Target Urine pH | 6.2-6.5 |
The best way and the only way we recommend feeding our Young Again Cat Foods is free-choice feeding.
RULES
You need at least one bowl of food for every cat in the house. The bowl must be 8-10 inches across and about 1 inch deep. A standard 9 inch pie plate you can buy anywhere is perfect. Do not use those cute, little 4 inch cat dishes they sell everywhere. Water can be in any size bowl you want but we recommend bigger the better.
You must put 2 full 8oz cups of food in each bowl. The bowl must never be allowed to be less than half full at any given time; never. If you have to fill the bowl more than every 3 days then you need more food in the bowl.
Each bowl must be placed around the house so that when a cat is standing at any one bowl they will not be able to see any other cat, at any of the other bowls. Place bowls in different rooms and floors for best results.
That's it. Follow these simple rules and you will have a happy, healthy feline household.
We know this is a different way to feed your cat, but when feeding Young Again Cat Food, it is the best way. Please read our paper on obesity/overeating in cats.
Before and during use, please close bag securely and shake to evenly distribute the external flavoring, probiotics and enzymes that settled during shipping.
There are two ways to feed Young Again Cat Foods:
At YA, we highly recommend Free-Choice feeding. Please follow the instructions carefully. For additional feeding suggestions and assistance, please read Transitioning your cat.
If you must restrict feed your cat, please use these guidelines:
Average consumption for 24 hours:
8 lb. cat –  Level ¼ cup
10 lb. cat – Rounded ¼ cup
12 lb. cat – Level 1/3 cup
15 lb. cat – Rounded 1/3 cup
20-25 lb. cat – Level ½ cup
For Maine Coons and other giant breeds add ¼ cup to each of above measures for 12 pounds and up.
PLEASE NOTE: Because Young Again is a nutritionally-dense food, your cat will eat much less than other cat foods.
---
More from this collection