---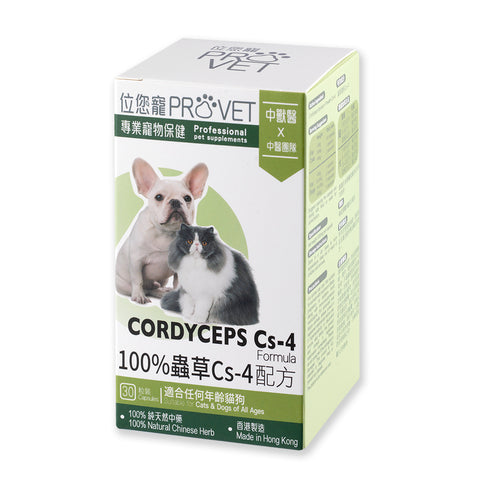 ProVet Cordyceps Cs-4 Formula (Cats & Dogs)
---
Longevity, healthiness & happiness of pets are always top concerns of all owners. "100% Cordyceps Cs-4 Formula for Cats & Dogs" by Wai Yuen Tong is formulated with 100% natural Chinese herbs for dogs and cats. It is a safe and effective way to restore health, enhance body strength and life quality of your beloved pets.
"100% Cordyceps Cs-4 Formula for Cats & Dogs" is Suitable for Cats & Dogs of All Ages for strengthening respiratory health. It helps tonify Lung Qi, replenish kidneys and nourish essence. This pet supplement also helps maintain vitality, strengthen immune system and promote overall body health.
ProVet Formula Developed by Certified Traditional Chinese Medicine Veterinarians & Validated by Chinese Medicine Practitioners
100% Natural Chinese Herbs
No Preservatives, Artificial Colors, Artificial Flavors Added
Passed the Safety Tests Including Heavy Metal Determination, Pesticide Residue & Microbial Evaluation
Made in Hong Kong
Functions:
Strengthen Respiratory Health
Tonify Lung Qi, Replenish Kidneys and Nourish Essence, Maintain Vitality
Strengthen Immune System, Promote Overall Body Health
Dosage:
Suitable for Cats & Dogs of All Ages
For Cat
Under 3kg: Take 1/2 capsule daily
3 -  8kg: Take 1 capsule daily
Over 8kg: Take 2 capsules daily
For Dog
Under 3 kg: Take 1 capsule daily
3 -  6kg: Take 1 capsule twice a day
6 - 13kg: Take 2 capsules twice a day
13 - 20kg: Take 3 capsules twice a day
Over 20kg: Take 4 capsules twice a day
*Suggest opening the capsule and mixing with food or water for consumption. 
Packaging:
1 bottle per box, 30 capsules per bottle
Remarks:
For animal use only. Not suitable for pregnant, lactating or diabetic animals. Avoid taking with anticoagulants and diuretics. If hypersensitivity or discomfort occurs, stop taking this product and consult a registered veterinarian immediately. Please do not consume if the packaging is damaged. This product is not intended to diagnose, treat or prevent any disease.
Suitable for cats and dogs of All Ages
Cordyceps Mycelium Power (Cs-4)
---
More from this collection