---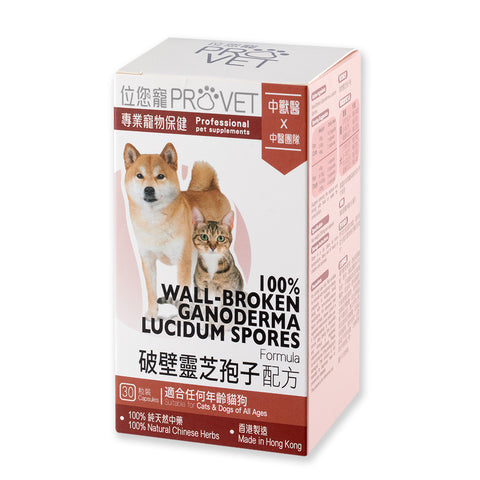 ProVet 100% Wall-Broken Ganoderma Lucidum Spores Formula (Cats & Dogs)
---
Longevity, healthiness & happiness of pets are always top concerns of all owners. "Wall-Broken Ganoderma Lucidum Spores Formula for Cats & Dogs" by Wai Yuen Tong is formulated with 100% natural Chinese herbs. It is a safe and effective way to restore health, enhance body strength and life quality of your beloved pets. 
"Wall-Broken Ganoderma Lucidum Spores Formula for Cats & Dogs" is Suitable for Cats & Dogs of All Ages for enhancing vitality & immune system, promoting overall body health and anti-aging. It helps nourish heart and tranquilize mind; support the health and secure the root, and promote blood circulation and metabolism. 
ProVet Formula Developed by Certified Traditional Chinese Medicine Veterinarians & Validated by Chinese Medicine Practitioners
100% Natural Chinese Herbs
No Preservatives, Artificial Colors, Artificial Flavors Added
Passed the Safety Tests Including Heavy Metal Determination, Pesticide Residue & Microbial Evaluation
Made in Hong Kong
Functions:
Increase Vitality
Nourish Heart and Tranquilize Mind
Support the Health and Secure the Root, Promote Blood Circulation and Metabolism
Strengthen Immune System, Promote Overall Body Health
Anti-Aging
Dosage:
Suitable for Cats & Dogs of All Ages
For Cat
Under 3kg: Take 1/2 capsule daily
3 -  8kg: Take 1 capsule daily
Over 8kg: Take 2 capsules daily
For Dog
Under 3 kg: Take 1 capsule daily
3 -  6kg: Take 1 capsule twice a day
6 - 13kg: Take 2 capsules twice a day
13 - 20kg: Take 3 capsules twice a day
Over 20kg: Take 4 capsules twice a day
*Suggest opening the capsule and mixing with food or water for consumption. 
Packaging:
1 bottle per box, 30 capsules per bottle
Suitable for cats and dogs of All Ages
Whole Ganoderma Lucidum Wall-Broken Spores
Remarks:
For animal use only. Not suitable for pregnant, lactating or diabetic animals. Avoid taking with anticoagulants and diuretics. If hypersensitivity or discomfort occurs, stop taking this product and consult a registered veterinarian immediately. Please do not consume if the packaging is damaged. This product is not intended to diagnose, treat or prevent any disease.
---
More from this collection